BINDING SOULS

/ˈbīndiNG/

Noun: A strong covering holding the pages of a book together.

Adjective: (of an agreement or promise) Involving an obligation that cannot be broken.
I'd like to talk about a recent discovery I have made, one that undoubtedly delves into the elusive human condition plaguing our society today. On one side, we are evolving at the speed of light trying to keep a timely connection to the technology train, and its ever-expanding, head spinning wormhole, on the other, we are riding along carrying heavy bags and fading memories of things that once made everything magical; an antique gramophone, old 45 records, Polaroid photographs etc. Surprisingly, the more we evolve, the more value we give the old. Don't get me wrong; recent innovations are marvels for the wandering eyes. Unfortunately, they do not strike at one's heartstrings as the pure resonance felt after digging a treasure buried in dusty crates.

Without becoming poetic about it, the older we get the more we feel melancholic about the things we may have once taken for granted.

As some of you may know I've been writing for the last 8 years., More and more, the experience resembles a modern fairy tale, and I realize that even at 41, one can fall in love with Art all over inspiring me to start from scratch again. What begins as a typical day filled with motherly involved things to do; ends with the device that enables me to transfer words into my manuscript, the modern typewriter; my laptop. As usual, I was trying to avoid the literal crushing of inspiration from spending too much time on # 1: Facebook, # 2: Gmail and # 3: Google, I am not particularly thrilled to admit that I lost the battle to # 3, but happy that my weakness turned into a great story. My mind decided that it needed (of course, wanted) something, and the pursuit to find my mind's most prized desire turned into an inspiring story. As I typed the words "Journal with a lock and key" in the Google search engine, it sent me on a quest that had me puzzling over hundreds of results. None satisfying, because I did not want any of the lame manufactured journals I had once seen during my childhood. The truth is I had never owned one as a child, and I think that if I did, I might have started journaling at a much younger age; nevertheless, I had many journals since, but I never found THE ONE.

Of course, as suspected, the "images" search led me to Etsy. Being artsy, and clearly unmoved by the competitive prices from other leading brand sites, my eyes were able to depict quality from a photograph with every click. I was attracted to unique designs that spoke to my inner artist. My journal had to have a story, be unique, and a reflection of me. One shop finally caught my attention more than any other. Their work inspired me to keep coming back to the shop even though it wasn't selling any journals with locks and keys. There was something about their books; I couldn't put my finger on it. I eventually clicked on the link that brought me to their website and to my amazement, there they were all of their creations, most of them sold out, some had locks and keys, others were so tiny they could fit in the palm of one's hand, but the beauty of the books lied in their uniqueness. Her name is Teodora, her artistry; making one-of-a-kind books, each bearing a story, from conception to creation. Her website then led me to her blog where she retold the story, elaborating on the various steps involved; hunting for antique treasures in flea markets from around the world, aged-paper-dying and testing; like tea vs coffee, the strenuous tooling of the leather by hand, bookbinding swaps, painting, detailing, making book clasps, and so much more. I was enthralled by the methods; time disappeared, and I happily lost myself in her world.

I bought two books that day, both with unique stories binding myriads of souls into one. From the artist that binds and threads carefully selected worldly items, her search for the perfect vintage leather, often found in an old unwanted briefcase, to the antique apothecary jars filled with pigments and dyes found at a flea market, to the writer or lover whose words are as rare as the inimitable book that holds them together.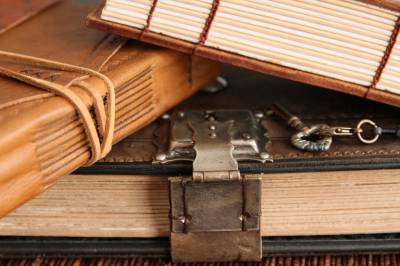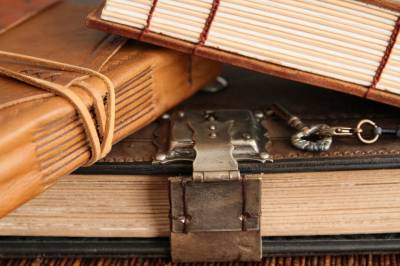 Books have always had a distinct role in our lives. Many say that they are the soul of each home. If I close my eyes, I can almost witness what it was like for our ancestors to own a piece of magic. Books were so much more than what they are today because their stories didn't start with the first chapter. The bookbinders gave them a soul, and the writers gave them a personality, utterly complete in every way.

Today you can open an old dusty book, and its smell can create the most delightful memories in a single enchanted moment. I spent the whole night thinking about my new fascination with bookbinding. After much reflection, I decided to type the words "Antique Books", and to my bewilderment, I stumbled upon Bauman Rare Books' website where a signed limited first print edition of Francois Saint-Exupery's "Le Petit Prince" (The Little Prince) was selling for 21 000,00$, number 392 of only 525 copies signed by Saint-Exupery, in original numbered dust jacket. Incredible!!!

I was faced with the inescapable reality caused by our beloved technology trap. To access such information would have been impossible for most of us 20 years ago where only a phone book, a telephone, an address, a long walk, a train, a plane or an automobile would have been the only successful search methods. Now, with only a click, you can access an unlimited amount of information, and find answers to billions of questions from afflicted minds and easily buy products from foreign places.

I have to believe that the more we go forward, the more we need to look back at the beauty we left behind. I have a renewed appreciation for the power of technology, the new somehow bridging the gap to the old ways. Without technology, I wouldn't have found the remarkable Teodora, a true artist who cleverly uses the Internet as her marketing medium.

These are the type of stories that shape my human existence. Because from them, I am wiser and more inspired for daring to look at the behind-the-scenes of an artist whose work inspires me immensely. I sent Teodora a note with my purchase complimenting her beautiful works of art, and asking her if she ever planned on making more books with locks and keys, well, she thanked me for the kind words, and happily informed me that she was finishing two books with locks!!! I am excited to see her latest creations (which will inevitably result in a new purchase). I have a strong feeling that her books take after her. Beautiful and unique binding souls!

Ps: A week later, she put on "RESERVED" two books with locks, and I was blessed to get first pick. I hope you read part two of the story coming soon, I promise, it will inspire you!

If you would like to see Teodora's Art Journals or even buy her one-of-a-kind books,
Visit, TeoStudio Handmade Books, Journals and Old Leather Bindings shop on Etsy.
http://www.etsy.com/shop/TeoStudio, and her website;
Seektash.